Smooch - Vanilla & Macadamia Sugar Scrub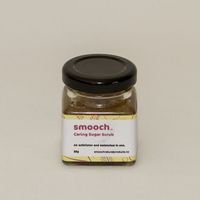 Perfect for nourishing, protecting and healing the skin, our Smooch Caring Sugar Scrub removes grit, grime and dead skin cells, leaving exfoliated skin feeling smooth and soft.
The scrub has a two-part system - a coconut oil base with essential oils for moisturisation and two sugars and two salts for exfoliation.
Ideal for weekly TLC, dry skin, cracked heels and the effects of psoriasis. Combine with daily use of Dr. Smooch for younger looking skin that feels nourished, hydrated and softer for longer.

Vegan
Cruelty Free

2 sizes available.

Made in Kapiti, New Zealand
Special Order - ships in 3-5 business days
Ingredients: Pure Virgin Cold Pressed Coconut Oil, Macadamia Oil, Almond Prunus Dulcis, Fochina, Vitamin E, Vanilla Planifolia, Raw Sugar, Cane Sugar, Sea Salt, and a whole lot of love in the stirring.
Wave goodbye to dry skin and the nasty chemicals that can be found in other skincare. 
No synthetic fragrances or preservatives (parabens)
No sulphates, fillers or stabilisers
No chemicals or petro-chemicals
No aluminium or irritants
No animal by-products
No palm oil
No plastic packaging
Keep your skincare routine green. Wholesome ingredients sourced directly from nature mean you get: 
A guilt-free product using no plastic or palm oil
Natural anti-fungal and anti-bacterial properties.
A scrub made for all skin types and gentle enough for sensitive skin.
Exfoliation for softening rough, workers hands
A product so natural you could eat it.
100% Money Back Guarantee