Global Soap - Shaving Bar - Peppermint & Teatree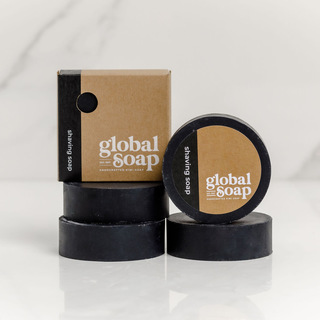 Made with luxurious oils for a classic and creamy lather and bentonite clay for enhanced razor glide.

This bar also contains activated bamboo charcoal which draws impurities and toxins from pores making it a fabulous choice for blemish prone skin types.

Made in Nelson, New Zealand
Scented with fresh and woody essential oils. Combine Peppermint & Teatree Shaving Bar with hot water and a shaving brush to whip up a luxurious creamy lather.
Clay: has moisture absorbing properties and adds extra slip so the razor easily glides across the skin for a closer shave.
Avocado Oil: is easily absorbed into the skin and used to hydrate and re-generate skin.
Castor oil: creates a rich foamy lather. Soothing and lubricating great properties for a natural shaving soap.
Activated Charcoal Bamboo: antibacterial properties that can regenerate your skin. It draws impurities and toxins out of the skin "helping to relieve acne and other skin problems"
Ingredients
Coconut Oil, Palm Oil (Sustainable), Sodium Hydroxide, Water, Castor Oil, Avocado Oil, Olive Oil, Activated Bamboo Charcoal, Bentonite Clay, Pure essential Oils of Teatree and Peppermint.