Figgy & Co - Cleaning Paste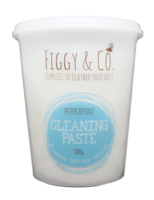 Once you go cleaning paste you'll never go back! This Figgy & Co. paste is so versatile it can literally be used in any room in the house to make it sparkle. Use on any hard surface – think sinks, showers, baths, tiles, tap wear, walls… uses are limitless! Baking soda gently but thoroughly scrubs clean, while Figgy's liquid cleaning soap (castile) lifts grease and grime revealing seriously clean!

Made in Paraparaumu, New Zealand
Made for your convenience, Figgy & Co's hand-batched cleaners are non-toxic and 100% natural.
Once you go cleaning paste you'll never go back! This paste is so versatile it can literally be used in any room in the house to make it sparkle. Baking soda gently but thoroughly scrubs clean, while Figgy's liquid cleaning soap (castile) lifts grease and grime revealing seriously clean!
This is a dream to use in the bathroom and kitchen, especially for ridding tannin stains from cups. 
4 parts baking soda
1 part Figgy liquid cleaning soap
20 drops essential oil