Smooch - Doctor Smooch Natural Skincare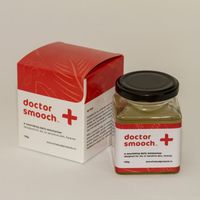 A nourishing daily moisturiser designed for dry or sensitive skin, forever.
Great for skin irritations such as eczema, psoriasis, rosacea, dry skin, athlete's foot, anti-ageing, after sun, hardened or cracked skin, rashes and after shaving.

100% Money Back Guarantee
Vegan
NZ made
Animal cruelty free

2 sizes available

Made in Kapiti, New Zealand
Why Doctor Smooch Can Benefit So Many 
Dr. Smooch doesn't use potential skin irritants and is still affordable, smells delicious and hydrates your skin leaving it feeling nourished and soft. 
Skin feels smoother and hydrated
Helps support your skin naturally
Fast absorbency rate
No oily feel
Feels light on your skin
Hydrates your skin immediately
Can reduce dry skin, itchiness and redness from the first use
100% money back guarantee
100% natural ingredients
Contains Macadamia which is very similar too and can help support our owns natural oils 
It's just a really nice, soothing moisturiser! 
What's been left out?...
No fillers. (These make products cheaper to manufacture) 
No fragrances or preservatives (parabens)
No sulphates or stabilisers which keep products in cream form
No chemicals or petro-chemicals (specific chemical compounds, which can be made from oil, natural gas, coal etc.) 
No animal by-products
No plastic packaging or palm oil
Wholesome Ingredients Sourced Directly From Nature Mean You Get... 
Guilt free skincare.
Natural anti-fungal and anti-bacterial properties.
A little that goes a long way.
Natural sun protection (SPF 8).
A product so natural you could eat it.
Protection from free radicals that age our skin.
Warm fuzzy feeling as you're not adding plastic bottles to the environment.