Glam Splash - Elder & Lime - Water Flavour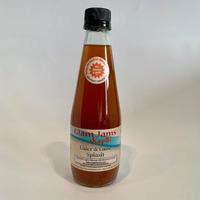 Splash = No Added Sugar + Low Carb = Tasty Drink
A natural, light flavouring concentrate for water or soda. Just add 50g to a 250g standard glass of water ( thats a 1-5 ratio ) and stir.
Store chilled after opening and use within a month but may also be kept in cool cupboard for a week or so after opening too... 
Ingredients: ELDER AND LIME
Water, natural sweetener (stevia leaf extract 960 & non GMO yeast fermented erythritol 968), wild elderflower blooms, orange juice and zest, lemon juice and zest, lime juice, kaffir lime leaf, acidity regulators (ascorbic acid 300 & citric acid 330), stabiliser (guar gum 412).
Nutritional Info: ELDER AND LIME
| | | |
| --- | --- | --- |
| avg  quantities:   | per 50g serve   | per 100 g  |
| energy  | 34 kj | 68 kj  |
| protein | 0.1g | 0.1g |
| fat-total | 0.0g | 0.1g |
| fat-saturated | 0.0g | 0.0g |
| carbohydrates | 0.6g | 1.2g |
|     -sugars | 0.6g | 1.1g |
| sodium | 0 mg | 1 mg |