Smooch - Baby Love Massage Oil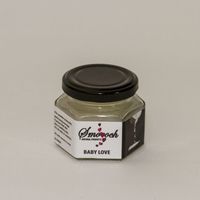 Ingredients:
Ingredients are left in their natural state so the consistency will change with temperature but this does not alter the effectiveness and it doesn't matter how often this happens. 
Fijian Nui Pure Virgin Cold Pressed Coconut Oil, Vanilla planifolia, Lavandula angustifolia , Cranberry, Organic Fochina
Baby Love
For sensitive skin (not just for the little ones...)
Massage:
Let your baby and yourself relax with a massage oil that contains only natural plant based oils. At Smooch Natural Products we don't use any ingredients that can't be eaten. Whilst giving the massage you're helping to heal and prevent any rashes occurring.
No reason why you can't use it yourself either...just need to find that magic person willing to do it...
Rash Prevention and Healing Balm:
Baby Love can be used as a balm when changing nappies. Just rub it on after cleansing the area to help reduce rashes. Great on stubborn rashes and you should see fast results. We are often told that nothing removed their babies rash until they tried Baby Love. We're so confident that it will help that we offer a money back guarantee! (through website sales only) 
Teething rashes can be nasty and dry out your babies lips and chin. Just gently rub the oil onto the sore area. You should see fast results almost instantly. 
Cradle Cap:
Baby Love should help with cradle cap but for stubborn cases you may need to take the step up to Doctor Smooch. This is also good for babies with eczema.  
Spots, Blemishes, Scratches
Gently apply Baby Love to assist the healing.
Baby Eczema: 
For some, in mild cases Baby Love may help but we would recommend a step up to Doctor Smooch if you are wanting a product just for eczema.