Smooch - Doctor Pet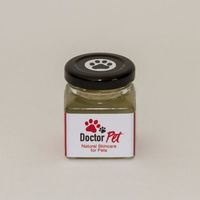 Ingredients: Fijian Niu Coconut Oil, Shea Butter, Sesame Oil, Hemp Oil, Plant based Vitamin E.
Smooch Pet Cream is an anti-bacterial and anti- fungal cream which is why it has great healing properties.
Doctor Pet can be used on sores, scratches, rashes, eczema, liver spots, bites, after an operation, protection from the sun or to ease sunburn
Promotes healing through daily application to the problem area of natural healing ingredients
Deters flies from open sore. Apply Doctor Pet daily for full benefits
Distract pets immediately after application to allow the product to absorb, approximately 2-3 minutes
Like all Smooch products there's nothing in Doctor Pet that they can't eat
Depending on the weather the product may change consistency. Firmer in the cold and an oil in the heat
There are many plants and grasses that can result in an allergic reaction for animals but Wandering Jew (aka Tradiscantia and Wandering Willie) is a succulent plant that commonly causes contact dermatitis in many animals. 
Doctor Pet can be rubbed on pets skin and between toes before or after a walk (or both) to assist repairing the skin damage and possibly prevent itchy bellies due to thin film it creates on their skin.
The  Pet Doctor Origin story from Corrin - Founder of Smooch Natural Products....
"Made originally for my dog Tui, as she suffered from contact dermatitis from flea bites (she was flea treated but they still affected her if one landed), also from grass and plants, particularly Wandering Jew.
My cat was also a bit odd and had a Pink Batt (roof insulation) fetish. She would stalk around the neighbourhood searching for Pink Batts and rub herself all over them. This resulted in her losing most of her fur! Not a pretty look!! After 'Smooching' her a few times her hair started growing back and the rash was gone. Being a cat and a fussy one she didn't like to be smooched so we had to find her, catch her and then rub in some smooch on the sly. If I picked up the bottle she ran and hid even though I told her medicine is good."