Smooch - Natural Deodorant
Please Note:
Final Christmas orders for South Island or Rural addresses 16th December
Final Christmas orders for North Island 18th December
Final Christmas orders for Wellington region 21st December
For orders outside/after these dates we will do our best but can not guarantee they will arrive in time.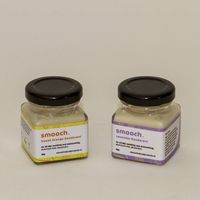 An effective, nourishing deodorant that delivers all-natural freshness, all day. Prevent unwanted odours and stained clothes while soothing and moisturising your skin with our irritant and aluminum-free Smooch Natural Deodorant.
Beautifully blended with organic plant oils, our deodorants are available in your choice of natural fragrance - Sweet Orange or Lavender.

2 fragrances available

Vegan
Cruelty Free

Made in Kapiti, New Zealand
Ingredients: Sodium hydrogen carbonate, corn starch, maranta arundinacea, pure virgin coconut oil, fochina (an organic blend of natural plant oils), lavender or sweet orange.
No need to sweat over any scary chemicals:
No aluminium or irritants
No synthetic fragrances or preservatives (parabens)
No sulphates, fillers or stabilisers
No chemicals or petro-chemicals
No animal by-products
No palm oil
No plastic packaging
Keep your routine green. Wholesome ingredients sourced directly from nature mean you get: 
A guilt-free product using no plastic or palm oil
Long-lasting odour defense with no nasties
Natural anti-fungal and anti-bacterial properties.
Gentle enough for sensitive skin.
Soft, smooth armpits with reduced shaving rash.
Your choice of natural fragrance - sweet orange or lavender.
A little that goes a long way - one jar lasts up to 3-4 months when used every day. 55g 
A product so natural you could eat it.
100% Money Back Guarantee