Wild Appetite - Merlot Wine Jelly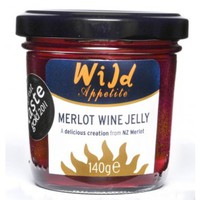 Serve with cheeses and a glass of quality New Zealand wine. Delicious with roast meats, game and poultry. Simply luscious served on scones or pikelets.
Pass jar under hot water, open lid, run knife around inside of jar and turn jelly out onto cheese board or simply serve from jar with spoon.
Ingredients: Sugar, Water, Merlot Red Wine (15%), Glucose syrup, Food Acid (Citric, Sodium Citrate), Pectin
Contains Aalcohol and Sulphites.