Figgy & Co - Glass Cleaner Refill 1L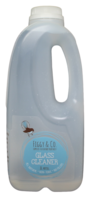 Figgy & Co's glass cleaner is nature working at its best! Made with strong white vinegar naturally distilled here in Aotearoa, your windows, glass and stainless steel will be streak-free without a synthetic ingredient in sight.

Made in Paraparaumu, New Zealand.
You'll be able to breath easy without inhaling those notorious glass cleaner fumes. Hooray! Although not essential, we recommend using Figgy Glass Cleaner with newspaper or a lint-free cloth.
We will order this refill for you on request however; we recommend you make your own (equal parts Vinegar and Water) by purchasing Figgy & Co's Extra Strength Vinegar