Figgy & Co - Glass Cleaner Trigger 500ml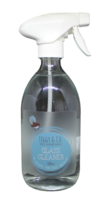 Figgy & Co's glass cleaner is nature working at its best! Made with strong white vinegar naturally distilled here in Aotearoa, your windows, glass and stainless steel will be streak-free without a synthetic ingredient in sight.

Made in Paraparaumu, New Zealand.
You'll be able to breath easy without inhaling those notorious glass cleaner fumes. Hooray! 
Although not essential, we recommend using Figgy Glass Cleaner with newspaper or a lint-free cloth.
Now in a glass bottle and armed with a commercial grade trigger this bottle can be refilled time and time again, saving you money, and the earth some plastic!