Glam Jams & Cordials- Zucchini Mustard Pickle
Please Note:
Final Christmas orders for South Island or Rural addresses 16th December
Final Christmas orders for North Island 18th December
Final Christmas orders for Wellington region 21st December
For orders outside/after these dates we will do our best but can not guarantee they will arrive in time.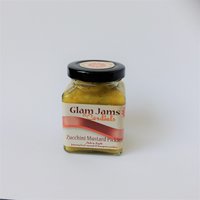 Vibrant, crunchy and tangy 'bread and butter' style pickles. Perfect on lunch rolls, on burgers or veggie fritters.

Very mildly spiced with turmeric and mustard seed, lots of finely sliced zucchini and onion.

No added sugar

3 sizes available.

Made in Kapiti, New Zealand
Special Order - ships in 3-5 business days
To insure the maximum shelf life of this product, This little Kiwi does not hold stock.  Orders are placed with Glam Jams & Cordials once a week (on Friday) and orders are shipped from us on Monday mornings.
Ingredients: Zucchini (50%), Onion, White vinegar, Natural sweetener (stevia leaf extract 960 & non GMO yeast fermented erythritol 968), Cornflour (GF), Mustard seed & Mustard powder (total 0.7%), Salt, Tumeric, Black pepper.
This product is made in a kitchen that also handles tree nuts, peanuts, sesame, dairy, gluten, honey, sulphites, egg & soy.  Whilst care is taken with the manufacture of this product, traces if these substances may also be present.