Glam Jams & Cordials- Curried Bean Relish
Please Note:
Final Christmas orders for South Island or Rural addresses 16th December
Final Christmas orders for North Island 18th December
Final Christmas orders for Wellington region 21st December
For orders outside/after these dates we will do our best but can not guarantee they will arrive in time.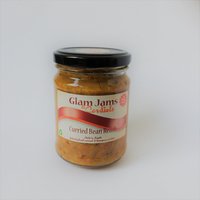 Chunky, tasty cauliflower and bean combo with medium spicy-ness, earthy turmeric, mustard and nigella seed. Great as a side condiment for a curry or with cheese or corned beef.

No Added Sugar

3 sizes Available

Made in Kapiti, New Zealand
Special Order - ships in 3-5 business days
To insure the maximum shelf life of this product, This little Kiwi does not hold stock.  Orders are placed with Glam Jams & Cordials once a week (on Friday) and orders are shipped from us on Monday mornings.
Ingredients: Organic apple cider vinegar, Cauliflower, Onion, Green Beans (12%), Water, Red Capsicum, Natural Sweetener (stevia leaf extract 960 & non GMO yeast fermented erythritol 968), Cornflour (GF), Coriander, Mustard seed, Tumeric, Cumin, Salt, Hot curry powder (0.4%), Mustard powder, Chilli, Nigella seed, Ginger, Black Pepper..
This product is made in a kitchen that also handles tree nuts, peanuts, sesame, dairy, gluten, honey, sulphites, egg & soy.  Whilst care is taken with the manufacture of this product, traces if these substances may also be present.