Figgy & Co - Home Cleaning Liquid Soap 500ml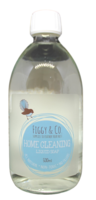 In a gorgeous glass bottle, this liquid cleaning soap is made by Figgy & Co. with love! We use an original technique, with 100% NZ sourced coconut oil, to make this superior castile cleaning soap. Use this soap for hand and clothes washing and in cleaners for around your home, with not a detergent in sight! This soap is also the perfect ingredient for DIY cleaners that call for liquid or castile soap.

Made in Paraparaumu, New Zealand
Now in a glass bottle! This is the same amazing Figgy liquid soap but bigger and better!
Use this soap for hand and clothes washing and in cleaners for around your home, with not a detergent in sight! This soap is also the perfect ingredient for DIY cleaners that call for liquid or castile soap.
For additional uses, check out Figgy & Co's recipes here.