Global Soap - Natural Soap Bar - Lemongrass Rosemary & Lime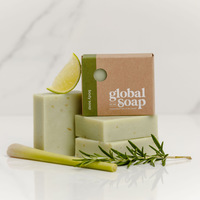 This cleansing and energising blend stimulates and improves circulation of the skin! Spoonful's of oatmeal are added to give it extra texture and a lovely scrub for the skin.
The zingy explosion of scent will lace the air with vigour and positive energy for the day ahead.

Pure essential oils of: Lemongrass, Rosemary, Lime

Made in Nelson, New Zealand
Please note that this is a non-returnable product.
Ingredients
Coconut Oil, Palm Oil (Sustainable), Sodium Hydroxide, Water, Oats, Cosmetic Colour Pigment, Carrot Oil, Pure essential oils of Lemongrass, Rosemary and Lime.
Global Soap's handcrafted soaps are completely natural and packed full of beautiful ingredients. They create a rich creamy lather to gently cleanse, moisturize and soften your skin.
Global Soap uses the traditional cold process method of soap making.
Each batch of soap is individually and lovingly handmade, hand cut and cured by Global Soap.
Global Soap products are Earth friendly and biodegradable.
Global Soap products contain NO Sodium Laureth Sulphate or Parabens.