Glam Jams & Cordials- Herb and Garlic Pesto-Vegan
Please Note:
Final Christmas orders for South Island or Rural addresses 16th December
Final Christmas orders for North Island 18th December
Final Christmas orders for Wellington region 21st December
For orders outside/after these dates we will do our best but can not guarantee they will arrive in time.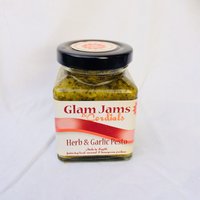 Green is good...and a bit spicey too. Flavourful foraged herb pesto that's Vegan - we haven't added any nuts either.....

An interesting combination of nasturtium, mint, lemon balm, garlic, peas, green olives, lemons, onion, capsicum, spices, olive oil and organic wine vinegar.

No Added Sugar, Dairy and Nut free.

2 sizes available

Made in Kapiti, New Zealand
To insure the maximum shelf life of this product, This little Kiwi does not hold stock.  Orders are placed with Glam Jams & Cordials once a week (on Friday) and orders are shipped from us on Monday mornings.
Ingredients: Peas, onion, organic white wine vinegar, nasturtium leaves and shoots (11%), green capsicum, organic green olives, olive oil, garlic (3%), lemon, rice wine vinegar, coriander, salt, cornflour(GF), lemon balm and mint (1%), cayenne, pepper.
This product is made in a kitchen that also handles tree nuts, peanuts, sesame, dairy, gluten, honey, sulphites, egg & soy.  Whilst care is taken with the manufacture of this product, traces if these substances may also be present.
Glam Jams & Cordials packaging is recyclable, reusable or compostable.  They accept glassware returns for reuse.  If you purchase and Glam Jams & Cordial products from This little Kiwi you are welcome to return clean and empty jars to us;
C/- Edsers,
Shop 9,
Kapiti Lights,
Paraparaumu
Just include a copy of your original invoice.  Once we have recieved your glass we will send you a code for free delivery on your next order. Only one free delivery code will be issued per initial invoice so be sure to send all you Glam jars back in one go.