Libertine Blends - Lux Grey 40g Loose Leaf Tea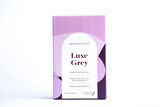 WHEN TO DRINK THIS TEA
Lovely for morning or afternoon tea with a slice of cake, or make a huge pot and sip the afternoon away.
PREPARATION 
Loose leaf – use one heaped teaspoon per cup
Pre-bagged tea temples - use one bag per large cup or medium teapot
Use water at 100°C 

Infuse for 3–4 mins
Delicious black with lemon or with a splash of milk.
Also makes a great base for making your own kombucha.