Libertine Blends - Kapow 15 Tea Temples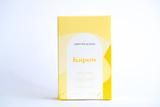 This is a bold and warming blend with native kawakawa and chilli leading with a punchy, peppery flavour. The blend is balanced by the freshness of lemongrass and the rounded sweet finish of fragrant cardamon.

Sometimes described as a New Zealand version of chai, this blend combines herbs to strengthen digestion and help improve circulation. Antibacterial and antiviral properties help sustain good health.

Made in Mount Maunganui, New Zealand
WHEN TO DRINK THIS TEA
A wonderful blend in the morning for a caffeine-free boost to your day, and after a meal to support digestion. Infuse a strong cup when you are feeling a chill, to ease a sore throat or need an energising pick-me-up.
PREPARATION 
Loose leaf – use one heaped teaspoon per cup
Pre-bagged temples – one bag per large cup or medium teapot
Enjoy hot:
Use water at 100°C 

Infuse for 5–10 mins
Enjoy cold:
Fill a jug with cold water 

Infuse 2 bags : 1 L for 4–6 hours/overnight in the fridge
Serve with fruit, cucumber or herbs and ice, OR add sparkling water and alcohol to create cocktails.
Kapow herbs are bold and give another flavoursome cup of tea when re-infused.