Libertine Blends - Runaway Rose 40g Loose Leaf Tea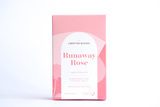 Rose is the ultimate soothing botanical, combined with a tiny touch of lavender to ease restlessness and lower the heart rate. Elderflower and vanilla offer a comforting mildly honey flavour and natural sweetness.

Runaway Rose is a delicate blend designed to relax and calm the heart. This blend will truly bring you back to yourself.

Makes 32 Cups

Made in Mount Maunganui, New Zealand
WHEN TO DRINK THIS TEA
Lovely in the afternoon in a quiet moment, or before bed for a dreamy end to the day. During times of high emotion this blend is a natural, nourishing comfort. Runaway Rose is especially suitable during pregnancy and for new parents. 
Blended in New Zealand from organic and wildcrafted herbs. Contains no caffeine, gluten, dairy, sweeteners or flavourings.
PREPARATION 
To enjoy hot
Loose leaf – use one heaped teaspoon per cup 
Tea Temple – one bag per large cup or medium teapot
Use water at 100°C 

Infuse for 4–7 mins 
To enjoy iced 
Fill a jug with cold water 

Infuse 2 bags : 1 L for 4–6 hours/overnight in the fridge
Serve with fruit, herbs and ice, OR add sparkling water and alcohol to create cocktails.