Libertine Blends - Lightning Green 15 Tea Temples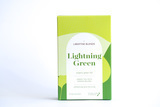 A refreshing sencha green tea with a floral aroma and the flavour of fresh mountain air.

Ginkgo biloba, one of the most ancient herbs, stimulates the flow of blood to the brain, increasing alertness.

This blend was designed to make you feel bright and alive.

Made in Mount Maunganui, New Zealand
WHEN TO DRINK THIS TEA
Enjoy Lightning Green when you need a light caffeine lift in your day.
Created from organic tea and herbs. Contains caffeine. No sweeteners, flavourings, gluten or dairy.
PREPARATION 
Loose leaf – use one heaped teaspoon per cup.
Pre-bagged temples – one bag per large cup or medium teapot.
Enjoy hot
Use water at 80°C 

Infuse for 2–3mins
Enjoy cold
Infuse in cold water 3 - 4 hours in the fridge

Serve with mint, cucumber, herbs and ice

OR … Infuse double strength and add with sparkling water to cocktails.