Libertine Blends - Minty Ohm 15 Tea Temples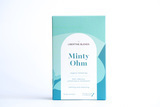 The refreshing fragrance of peppermint and stimulating qualities of rosemary helps the mind to focus, while native mānuka and lemon balm are a calming super-duo.

These herbs are cleansing as they contain high quantities of essential oils, and combine to support the liver as it filters and detoxifies blood as it circulates through the body.

Beautifully balanced, this is a tonic for the body and mind.

Made in Mount Maunganui, New Zealand
WHEN TO DRINK THIS TEA
A quenching blend to enjoy in the afternoon to calm and focus the mind. The balance of minty, clean flavours quell sweet cravings and cleanse the palate.
Created from organic and wildcrafted herbs. Contains no caffeine, gluten, dairy, sweeteners or flavourings.
PREPARATION 
Loose-leaf – use one level teaspoon per cup
Pre-bagged temples - one bag per large cup or medium teapot
Enjoy hot:
Use water at 100°C 

Infuse for 2–3 mins
Enjoy cold:
Fill a jug with cold water 

Infuse 2 bags : 1 L for 4–6 hours/overnight in the fridge
Serve with citrus fruit, herbs and ice, OR add sparkling water and alcohol to create cocktails.