Figgy & Co - Dishwasher Powder 1kg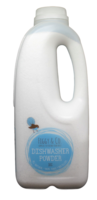 Packed full of active ingredients our concentrated dishwasher powder will leave your dishes sparkling. Enjoy the peace of mind that comes with this product - there are no harmful residues left on your dishes and making their way into your next meal! Formulated to degrease and clean, deodorize and stop water spots forming- this is comprehensive cleaner is made with washing soda, oxygen bleach, borax, citric acid and salt.

Use 1 tablespoon per load of dishes. Our 1kg bottle is enough for 50 washes (only $0.34c per load).