Figgy & Co - Nappy Wash & Soak 1kg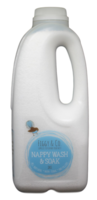 Figgy & Co formulated this powder to be an all-in-one product for cloth nappies. Use in your machine for general washing, or in a bucket or tub for when more intensive soaking is needed!
Designed to clean & freshen - all the while being gentle on little peoples skin.
Made from only natural and non-toxic ingredients.