Global Soap - Stain Remover Soap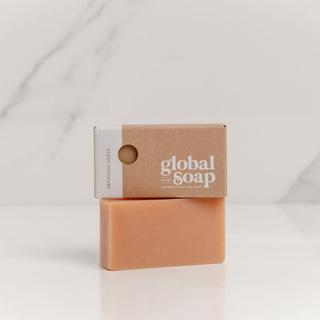 Natural cleaning power! Stain Remover laundry soap that's eco-friendly & biodegradable.

Pure essential oils of Lemon Teatree, Lemon Myrtle and Lemon.

Global Soap's handcrafted soaps are completely natural and packed full of beautiful ingredients. They create a rich creamy lather to gently cleanse, moisturize and soften your skin.
Global Soap uses the traditional cold process method of soap making.
Each batch of soap is individually and lovingly handmade, hand cut and cured by Global Soap.

Global Soap Products are Earth friendly and biodegradable.

Global Soap products contain NO Sodium Laureth Sulphate or Parabens.

Made in Nelson, New Zealand

Made using a traditional Swedish recipe that easily removes stubborn stains from fabrics, carpets & upholstery while still being gentle on your hands.
Works great with Soap Nuts! Is wonderful to use for hand washing, making it a must-pack travel essential -suiting the needs of every global traveller.
Global Soap's handcrafted soaps are completely natural and packed full of beautiful ingredients. They create a rich creamy lather to gently cleanse, moisturize and soften your skin.
Global Soap uses the traditional cold process method of soap making.
Each batch of soap is individually and lovingly handmade, hand cut and cured by Global Soap.
Global Soap Products are Earth friendly and biodegradable.
Global Soap products contain NO Sodium Laureth Sulphate or Parabens.