Honeysticks - Natural WASHABLE Watercolour Paints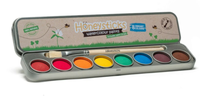 Get creative with Honeysticks Natural Watercolour Paints made from 100% natural and food-grade ingredients made with children's safety in mind.
Packed with 8 Vibrant colours our long lasting paints will allow your child to release their inner Picasso.

Made in Auckland, New Zealand
8 Vibrant Colours - Each pack contains 8 Vibrant washable Colours: yellow, red, pink, purple, green, blue, brown, orange.
Natural and Food Grade - Our Natural Watercolour Paints are completely natural and food grade making them safer for children play with. 
Natural Paint Brush - Each pack includes natural paint brush made of natural wood and bristles. 
Sustainable Packaging & Materials - All our beautiful packaging and materials are biodegradable, sustainable or reusable.