Smooch - Spotty Skin Balm
Please Note:
Final Christmas orders for South Island or Rural addresses 16th December
Final Christmas orders for North Island 18th December
Final Christmas orders for Wellington region 21st December
For orders outside/after these dates we will do our best but can not guarantee they will arrive in time.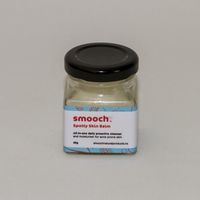 A moisturiser and proactive cleanser all-in-one, the Smooch Spotty Skin Balm is high in linoleic acid, making it perfect for teenagers with pimples and anyone with oily skin. Don't wash our Spotty Skin Balm off and get all the moisturisation benefits of our natural products. Use daily to remove excess keratin, a main cause of black and white heads.

Vegan
Cruelty Free

Made in Kapiti, New Zealand
Ingredients: Fijian Niu Pure Organic Virgin Cold Pressed Coconut Oil, Ocimum Basilicum Var, Linalool, Lavender, Argania Spinosa, Evening Primrose, Vitamin E, Apple Cider Vinegar, Organic Fochina.
Naturally occurring: Linoleic acid.
Active Ingredient: Keratin
Like all Smooch products there's nothing in Smooch Acne Balm that you can't eat -
No synthetic fragrances or preservatives (parabens)
No sulphates, fillers or stabilisers
No chemicals or petro-chemicals
No aluminium or irritants
No animal by-products
No palm oil
No plastic packaging
Wholesome ingredients sourced directly from nature mean you get: 
A multi-use, one step product that requires no washing off
A product so natural you could eat it
Natural anti-fungal and anti-bacterial properties that promote healing through daily application
A cost-effective alternative to expensive acne creams
100% Money Back Guarantee