Six Barrel Soda - Lemon Ginger & Honey Syrup
Please Note:
Final Christmas orders for South Island or Rural addresses 16th December
Final Christmas orders for North Island 18th December
Final Christmas orders for Wellington region 21st December
For orders outside/after these dates we will do our best but can not guarantee they will arrive in time.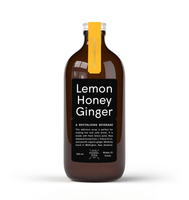 Lemon Honey Ginger with a citrus and ginger hit that isn't overly sweet. Using delicious raw New Zealand wildflower honey from J.Friend & Co, fresh squeezed lemons and pacific organic ginger from Fiji; Six Barrel has made a premium Lemon Honey Ginger syrup perfect for all year round drinking.

Made in Wellington, New Zealand
It makes a soothing hot drink to ward off winter chills and a crisp, dry soda with a ginger kick for days when you need a little afternoon pick me up.

Mix it with whisky and hot water for an easy hot toddy to take the edge of a winter's night.