Six Barrel Soda - Creaming Soda Syrup
This little Kiwi is open for PRE-ORDERS only.  Orders placed will be shipped as soon as we are legally able to do so.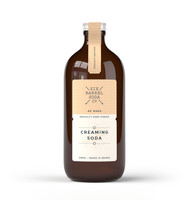 Six Barrel Soda's Creaming Soda is a natural version of a classic. Made with caramelised organic cane sugar for a smoky sweetness, squeezed fresh Meyer lemon juice for a refreshing citrus backbone and using Heilala vanilla for a real vanilla flavour.

Made in Wellington, New Zealand
Try it with a sprig of mint or a slice of lemon.