Global Soap - Conditioner Bar - Bergamot
Please Note:
Final Christmas orders for South Island or Rural addresses 16th December
Final Christmas orders for North Island 18th December
Final Christmas orders for Wellington region 21st December
For orders outside/after these dates we will do our best but can not guarantee they will arrive in time.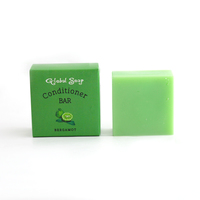 A beautiful solid conditioner bar to hydrate, moisturise and strengthen your hair.
Paired with Bergamot essential oil for a clean and refreshing citrus fragrance, this bar is packed with naturally derived goodness.

Made in Nelson, New Zealand
Ingredients: BTMS-25, Cocoa Butter, Cetyl Alcohol, Vegetable Glycerin, Hydrolysed Wheat Protein, Cococaprylate, Provitamin B5, Geogard 221, Bergamot Essential Oil, Mica.
This solid conditioner bar is 100% concentrated is equivalent to 2 or more bottles of liquid conditioner.
After shampooing, glide bar down wet hair. Massage through. Rinse off. Allow bar to dry after using.