Global Soap - Shampoo Bar - Coconut & Argan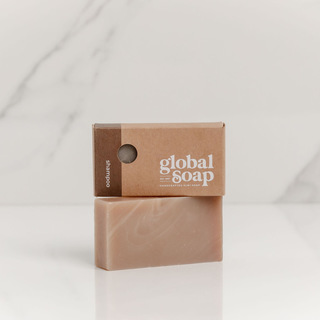 Olive Oil: contains antioxidants which promotes healthy hair and scalp. It strengthens and smooth's hair cuticles.
Castor Oil: is a great oil for hair which creates a rich foamy lather. It nourishes hair and prevents the scalp from drying by retaining and sealing moisture, softening, and visibly thickening hair.
Argan Oil: rich in vitamin E – a deluxe tonic for hair and scalp.
Coconut Fragrant Oil.
How to use a Shampoo Bar
All natural and solid shampoo bars have a creamy and fluffy lather that makes them easy to use. Wet your hair and massage the bar against your hair to form a lather. Rub the lather into your scalp then rinse thoroughly. You can then repeat the process if necessary.
A shampoo bar will last a long time if you look after it. Air dry it after use, or use a draining soap dish to extend life. You will be amazed!!
Please don't use your shampoo bar just once or twice and decide you don't like it - you need to give the bar a week to rid your hair of old residues from your commercial shampoo. Then you will notice your hair feeling different and you'll be truly pleased and amazed at the results.
Avoid contact with eyes.
Ingredients
Coconut Oil, Olive Oil, Palm Oil (Sustainable), Caster Oil, Sodium Hydroxide, Water, Argan Oil, Coconut Fragrant Oil.